One of the most rewarding aspects of our job is the work we do sponsoring local Northland organisations and the Fireco team are proud to be a Sport Northland sponsor.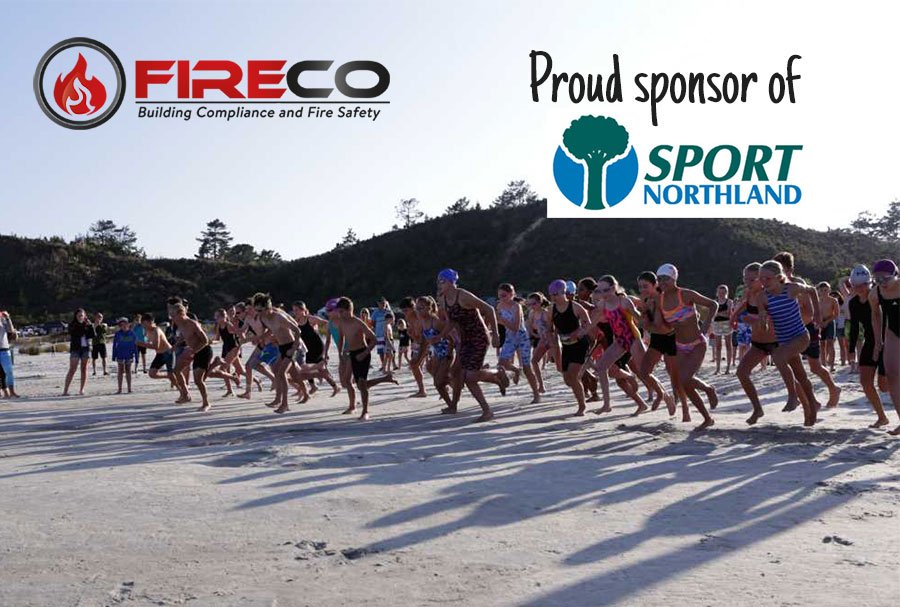 The team at Fireco are passionate about Northland, and endeavour to contribute to our vibrant community in as many meaningful ways as we can. One of the ways we do this is through sponsorship for various organisations throughout our region. We are dedicated to developing productive partnerships with a range of community groups who we feel make significant contributions to the betterment of Northlanders.
Fireco and Sport Northland offer complementary services, as we share the objective of the enhancing the welfare of Northlanders. Fireco focuses on fire safety and on providing education around fire safety, while Sport Northland promotes a vibrant, healthy community through sport by organising sporting events, activities and education. Working with this organisation is a fruitful partnership, and one we're very excited about.
Fireco Kai Iwi Lakes Triathlon
This is a long-standing event which is growing every year. It's one of those great events where everyone in the community can get involved, so we're thrilled to be the naming sponsor.
What we love about this triathlon is that it's truly a family event with courses that cater to both children and adults, while making provision for a range of ability levels.
Add to that the picturesque scenery and iconic camping facilities of this stunning area, and the Fireco Kai Iwi Lakes Triathlon is an event that has something for everyone.
Fireco Northland Sportsman and Sportswoman Awards
The Northland Sports Awards is a prestigious annual event which takes us from a fun, family event where the focus is on having a go and doing your best, to an awards ceremony celebrating our sporting elite, which reflects two sides of the same coin.
We continue to be amazed each year at the sheer skill and dedication of our sportsmen and women in Northland and have so much respect for these elite sportspeople. It is with great pride, therefore, that we have the naming rights to the Fireco Northland Sportsman and Sportswoman.
We believe the Northland Sports Awards are an opportunity for the whole community to celebrate these men and women who work so hard to hone their skills, but also, it's a chance to showcase to younger generations what is possible when you strive to be the best in your chosen field.
Fireco are passionate about promoting fire safety throughout Northland. We work with a range of businesses and organisations to educate about the importance of fire safety, from supplying and maintaining hand held fire-fighting equipment to building compliance and running fire safety courses for your staff. If you would like to discuss what we can do for you, contact our friendly team today.