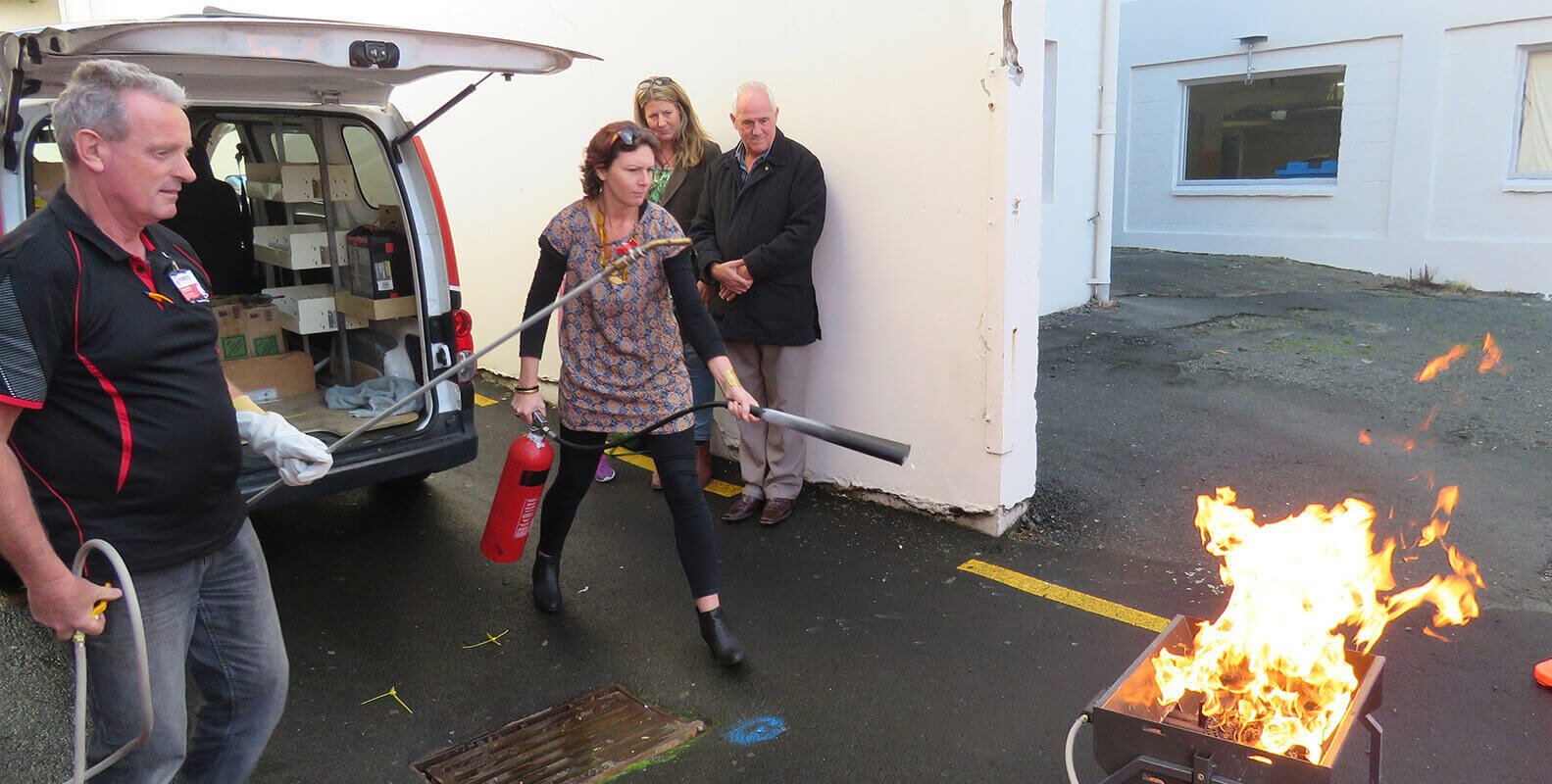 Fires are fast and dangerous. They can start from a small incipient fire to a full-blown blaze that can tear down huge properties in under an hour. 
You must keep in mind, that when putting out fires, to make sure you are in a safe location with an accessible exit point. Never back yourself into a corner or a wall. A good rule of thumb is to not endanger yourself or others in your attempt to fight a fire with a portable fire extinguisher. 
If you've been through a number of fire training drills or procedures, you know these firefighting skills will easily kick in at the onset of an emergency. However, there are those who have never had any fire safety training whatsoever. But don't worry there are a number of things you can do to protect yourself and others during a fire. 
What to Do During a Fire Outbreak
The first thing you should do, when you discover a fire is to activate the closest fire alarm system and quickly call emergency services. In most systems, the fire alarm will automatically notify the nearest fire department. As with other fire specified systems in the building, an interconnected fire alarm will shut down any AC to stop the spread of smoke throughout the premises. 
You can assist any person who needs help afterwards, those who are in immediate danger or unable to get to safety on their own. Of course, only do this if you are physically capable and not risking your own safety and the safety of others in doing so. 
If you decide to fight the fire, and it happens to be either small or at its early stages, you can use the nearest fire extinguisher, and aim the nozzle towards the fire. It would be at this point to recall any specialised fire training you've had before. 
If the fire has spread, evacuate the area you're in by going to the nearest exit or stairway. Close the door behind you as you exit, this is to keep the fire and smoke away from the egress areas. 
Do not use the lift, even if they are operational. A fire can short out the electrical system, and if the electricity does go out, how horrifying would it be to be trapped in an elevator? 
If smoke starting to fill the room and becoming thicker, you better get down and crawl. Smoke rises towards the ceilings, leaving air closer to the floor. This can help you survive this situation and prevent you from inhaling smoke into your lungs. 
Should a fire happen try to remember all these fire safety tips. Also make this year, the time to improve your fire safety plans. Prevention is the best way to fireproof your work environment. 



Fire Safety in Whangarei

 



Many Whangarei companies have specific fire emergency evacuation plans where they have designated assembly areas outside the building. This is situated as far away from the fire as possible. If you are still in the midst of planning an evacuation plan, or you simply have none at the moment, Fireco can help you establish an effective fire strategy and emergency evacuation plans for your employees.  
Fireco are the foremost fire safety experts in Whangarei, advising local business on many safety concerns, and recommend the best firefighting equipment and alarms they can use for their fire safety prevention campaigns.  
Feel free to call us about fire safety management and fire training workshops. Here at Fireco we're always ready to educate and inform. Plus we also do safety maintenance and inspection of fire extinguishers, making sure they are functional and ready for any fire emergency. Call us at Fireco 0800 101 232 or email us at info@fireco.co.nz