Fireco offers corporate fire training on a regular basis: for teams, for corporate environments, for tenants and for office employees.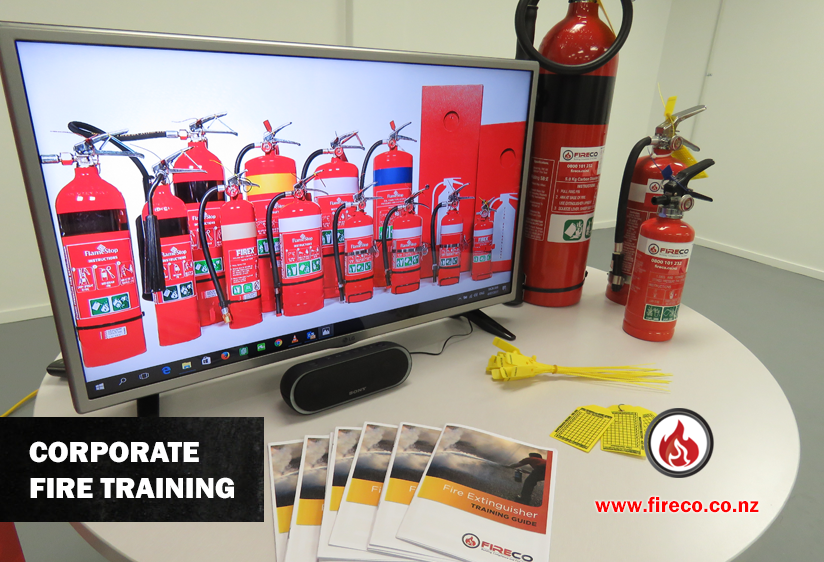 We make the training as hands-on as possible, for a very good reason. Recently, we held a fire training session for a team of employees in a multi-level corporate building. We had a fantastic response from those who attended, and one employee in particular was stunned by what she learned on the day. This is her account of the fire training session, and is a 100% honest diary of her experience.
Fire Training with Fireco: I can't believe I didn't know this about fire!
I never thought I'd have to pull the trigger – but now I know I can. Fire training is something that, in the back of my mind, I always thought of as just an annoying interruption to my work life. It was right up there with corporate training days, team work days, and shared lunches… But from the moment Fireco started setting up, I could tell this was going to be completely different. For starters, the guy getting everything ready was really down-to-earth and friendly: he wasn't trying to act business-like or corporate, he was just a normal chatty man with a whole lot to say about his gear. He immediately put us all at ease with his banter and method of teaching, and I can only say that if my high school teachers had managed their classes like this, I'd have learned a heck of a lot more!
After we'd had a bit of an intro session, and the instructor had gotten us all settled in, he proceeded to tell us all about his own experience in the industry, and why he does what he does. I found him really easy to listen to – especially when he started telling us some of the stories about his fire-fighting experiences! It brought home to all of us just how real a situation can get; and how fast you have to act…
Team fire training video: easy questions, difficult answers!
Do you know what fire is? Do you know what makes a fire? Do you know the key components that keep a fire alive? Do you know where to aim a fire extinguisher for the fastest results? Do you know how long a fire extinguisher will spray for – or even which fire extinguisher to use for each type of fire?
I'd never even thought of half of these questions before, let alone imagined the answers! Did you know that if you use the wrong kind of extinguisher on the wrong kind of fire, you can kill yourself?! I've just learned that using a wet or foam extinguisher on an electrical fire will result in – of course – death by electricity. Why had I never thought of that before? So we have to look for these special coloured bands on the extinguisher to know the type – or check the signage. This is basic stuff that I've never even considered. How scary!
This video was short enough to keep us interested, and long enough to get everything important in there. We were all sitting together, and I noticed that everyone was genuinely interested. Even better, the trainer kept everything moving along quickly so that we didn't get bored, and he had a funny little story about real life situations to keep us interested. He was open to questions too – and it felt like he really knew what he was talking about.
Hands-on fire training: how to use a fire extinguisher
Ok. I'll be honest with you. I've seen fire extinguishers on walls my whole life, and I've never once held one, let alone squeezed the handle! The experience of putting out a live fire with a fire extinguisher in hand is something I had never thought to have: until today. Today, I extinguished a real fire, using a real, sealed fire extinguisher. It was heavier than I expected, and to be honest, breaking the seal was a bit harder than I thought. I struggled, panicked a bit (there was a real fire!) and had to remember the training.
I now know that I have to break, pull and squeeze – before this training I wouldn't have had a clue. Also, knowing where to aim the nozzle, and how to spread the extinguishing material – there really is a 'right' way to do it. Biggest lesson though? You don't have much time, and extinguishers don't spray for very long at all.
Knowing what to spray, how to spray, where to spray, and when to spray: this is what I've learned today. Thanks, Fireco – I think you may have just given me the training I need to save my life – and my colleagues'.